Arduino Web Editor
The Arduino Web Editor allows you to write code and upload sketches to any Arduino and Genuino board from your web browser (we recommend Chrome, but you can also use Firefox, Safari and Edge. Chrome OS is also supported!) after installing a simple plug-in. It is hosted online, therefore it will always be up-to-date with the latest features and will always support any new board of the Arduino ecosystem.
The IDE allows you to write code and save it to the cloud (making it accessible from any device). It also detects automatically any Arduino and Genuino board connected to your PC, and configure itself accordingly. All the libraries available in the Library Manager (the repository of all community-generated libraries) are automatically detected, no need to install anything to get your code to compile. You can even import your Sketchbook via a .zip file! What's more, sharing a sketch is now as easy as sharing a link.
We envision the Arduino Sketch as the unit that includes everything you need to bring an idea to life. When someone shares a sketch with you, you'll now have access both to the code, the layout for the electronics, and the full tutorial (when available). This allows you to have all the necessary information to build on top of the original project, making it your own.
Getting Started with Arduino Web Editor and Tips
Arduino Project Hub
Arduino Project Hub is a tutorial platform powered by hackster.io. All the content is tagged by type of Arduino board used, level of difficulty, kind of project (for instance Getting started guide, Tutorial, Showcase...), and popularity.

You can also browse by categories, which include Audio & Sound, Flying Things, Gadgets and Toys, Home Automation, Installations, IoT, Lab Stuff, Lights & LEDs, Motor & Robotics, Screens & Displays, Sensor & Environment and Wearables, Health & Fitness.
You can always embed the code you write on the Arduino Web Editor on your tutorial! Just copy the sketch URL in the Software section of your project and it will be always up-to-date every time you update it.
Getting Started Flows
Setting up an environment in the correct way is always one of the most painful points when tinkering with electronics. We are providing Arduino users with guided flows when installing components or configuring products or features. We currently have two flows.
Install the Arduino Web Editor plugin: this plugin allows the USB ports on your PC to communicate with the browser, where the online IDE is running. The installation flow is available for Windows, Mac and Linux. It is also designed to install specific certificates for Firefox or Chrome, according to the browser you are using at the moment.
Set up Arduino Cloud: this flow allows you to create your first Internet of Things device, and setting up the token needed to communicate with it.
Arduino Cloud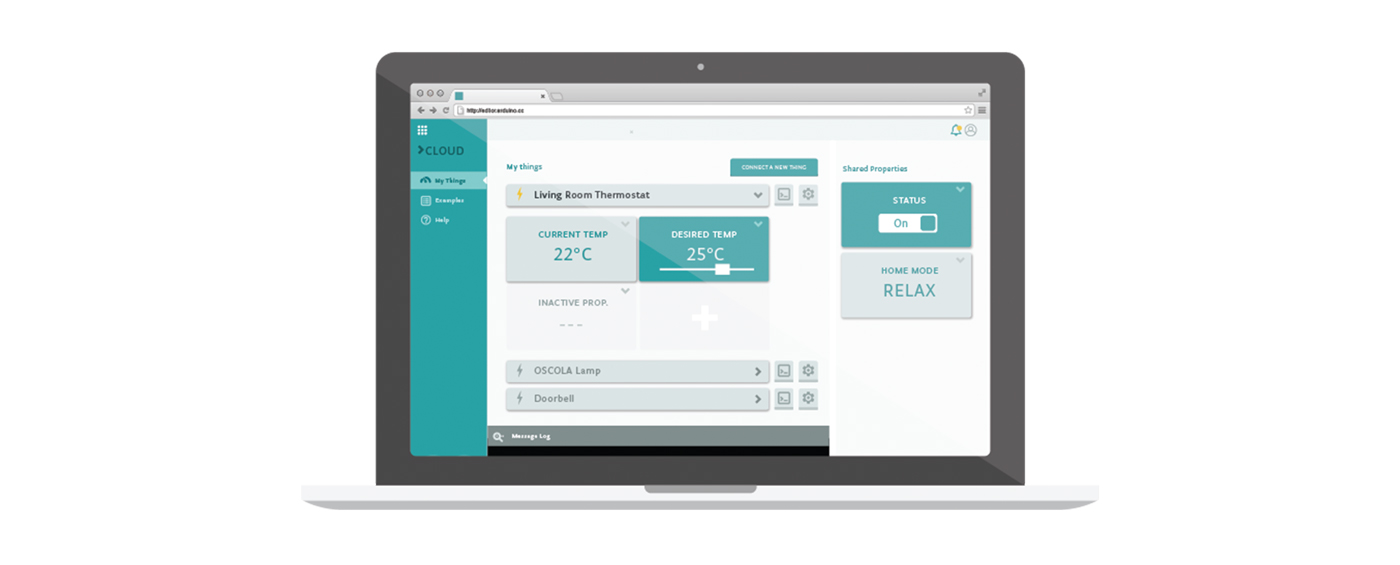 At Arduino we've always developed tools to inspire and enable Makers building their projects in the easiest way possible. We are releasing the very first version of a new tool that will make the creation of connected products quick, simple and secure. At the moment the system consists of an MQTT broker which lets you send messages from one board to another. Try out the Beta!
If you want to learn more about the Arduino philosophy on IoT visit this site and read the IoT Manifesto.
Explore Some Projects with Arduino Cloud