What is Arduino?
Arduino is an open-source physical computing platform based on a simple i/o board and a development environment that implements the Processing/Wiring language. Arduino can be used to develop stand-alone interactive objects or can be connected to software on your computer (e.g. Flash, Processing, MaxMSP). The boards can be assembled by hand or purchased preassembled; the open-source IDE can be downloaded for free. Arduino received an Honory Mention in the Digital Communities section of the 2006 Ars Electronica Prix. Credits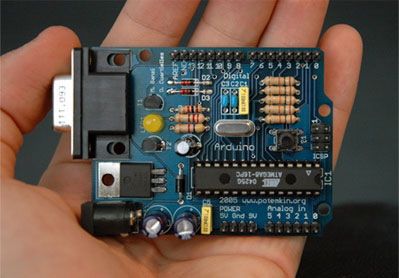 Photo by Nicholas Zambetti
Arduino News (archive)
2006.08.20 Arduino appears in Make 07. See the article free online. Thanks to Daniel Jolliffe.
2006.07.31 The application process for our workshops at Ars Electronica is now open. Check this forum note or the official site to apply!
2006.07.28 Gianluca and Massimo have engineered and launched a production of thousands of PCBs for Ars Electronica.
2006.07.18 David Cuartielles presents Arduino at Ars Electronica's Future lab. Also schedules a meeting to Linz's local Arduino group, created by Erich Berger.
Getting Started
Check out the howto for instructions, or attend an Arduino workshop.
Arduino Hardware

The Arduino board is a cheap, robust i/o board based on the ATmega8. It has 13 digital pins (3 of which allow PWM output) and 6 analog inputs. There are USB and serial versions, which you can buy or build yourself.

Buy. Catalog. Distributors: Europe, USA.

Build. Schematics and PCB layouts. Assembly instructions: soldering a PCB or on a breadboard (either way, you'll need a bootloader).

Extend. Shields are PCBs that snap on top of an Arduino board, extending its functionality.

Learn more about the parts of the board in the guide.

Arduino Software

The open-source Arduino Environment makes it easy to write code and upload it to the i/o board. It runs on Windows, Mac OS X, and Linux.

Download. From the software page.

Learn. From the tutorials.

Look up. In the reference.

Learn more about the Arduino environment in the guide or see the release notes for updates.

Arduino Community

The multi-lingual Arduino forum is the place to go with questions of all kinds (but be sure to check the FAQ first).

We're collecting Arduino knowledge, tutorials, and instructions in the playground wiki.

Arduino Development

Learn how to develop libraries for Arduino.

Find out the process your code goes through when it's compiled and uploaded.

Browse the Arduino source code online or see the instructions for building Arduino yourself.