Portenta Hat Carrier: making robotics and automation easier than ever
Transform your Portenta SOM into an industrial single board computer compatible with Raspberry Pi® Hats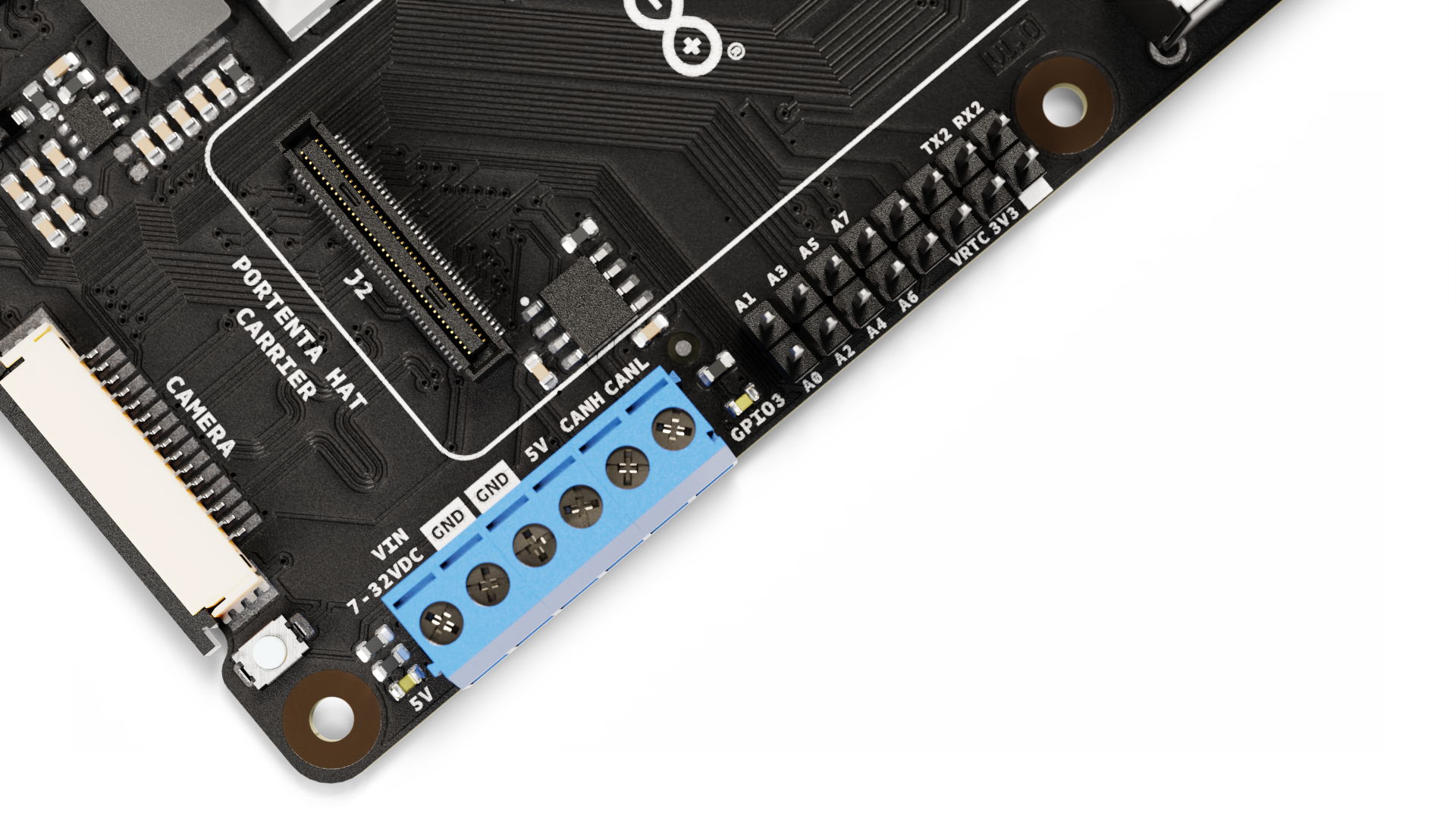 The reliable, flexible and easy-to-use carrier that fast-tracks your Portenta projects with easy access to multiple additional features
As part of our range of high-performance hardware, Portenta Hat Carrier transforms your Portenta X8 into an industrial platform compatible with Raspberry Pi® Hats, ready for multiple robotics and building automation applications.
Compatible also with Portenta H7 and Portenta C33, Portenta Hat Carrier provides easy access to multiple peripherals – including CAN, Ethernet, microSD and USB – and further simplifies any Portenta application.
Great for prototyping and ready for scaling up, it features dedicated JTAG pins for quick debugging and a PWM fan connector, and is ideal to control actuators via 16x analog I/Os, or to develop industrial machine vision solutions leveraging the onboard camera connector.
Key Benefits
Add Raspberry Pi® Hats to your Portenta projects
Quickly access CAN, USB, Ethernet peripherals
Leverage onboard MicroSD card to log data
Enjoy simple debugging through the onboard JTAG pins
Easily control actuators via 16x analog I/Os
Develop industrial machine vision solutions, leveraging the onboard camera connector
Discover a great prototyping tool for scalable Portenta applications!
Features
RELIABLE AND ROBUST
Part of the Portenta range, designed for the most high-performance projects
FRICTIONLESS PROTOTYPING
Plug & play peripherals and easy debugging make testing new ideas quicker and more efficient than ever
READY TO SCALE UP
Effortlessly expand any project by leveraging the Arduino ecosystem or other leading solutions on the market
OPEN TO ALL
Avoid vendor lock-in with transparency and wide compatibility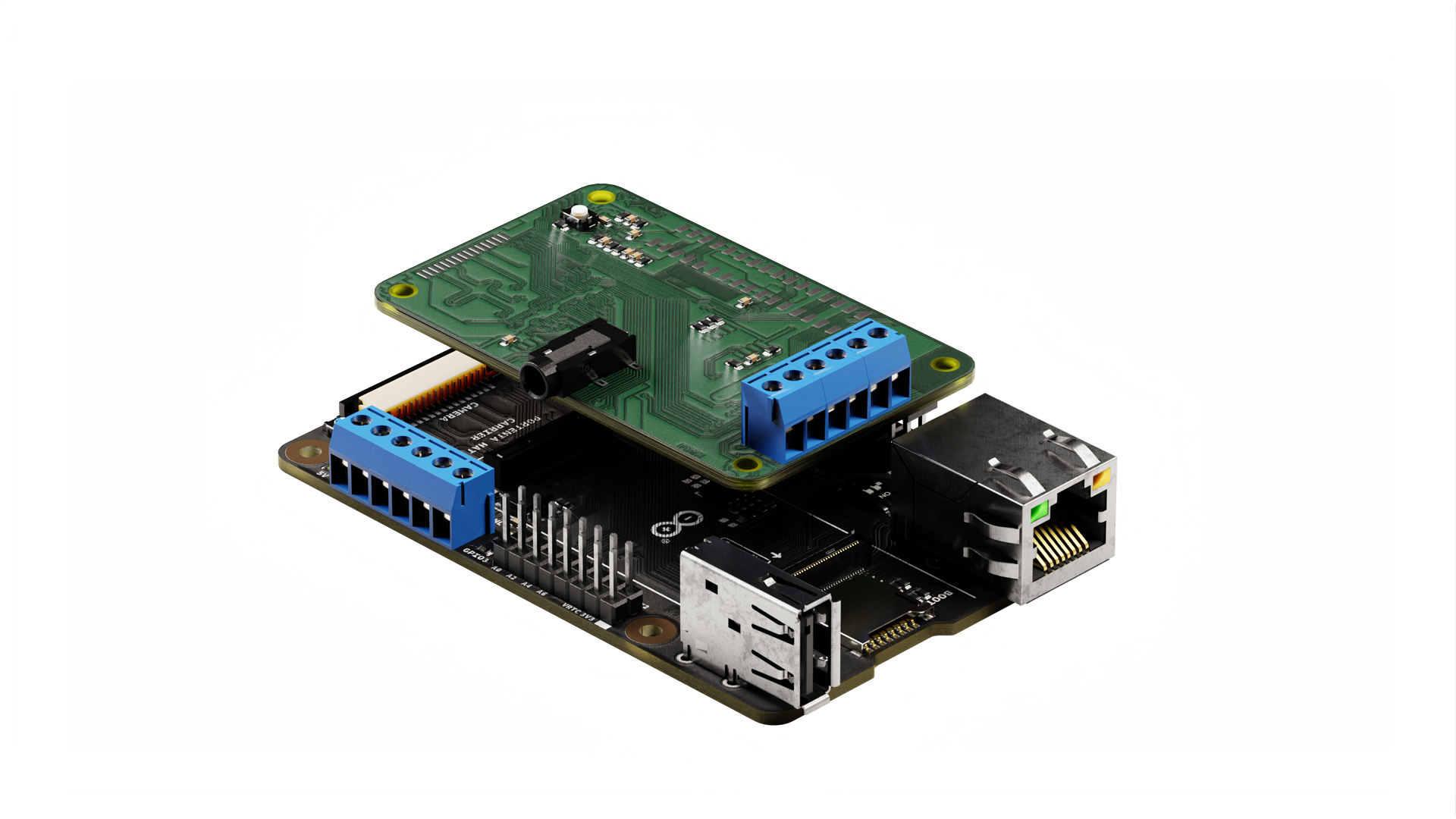 APPLICATION EXAMPLES
Portenta Hat Carrier meets the needs of the most demanding contexts while maintaining flexibility and openness
Industrial-grade applications require robust and reliable components that can stand the test of time and endure the toughest usage conditions. The Arduino Portenta family was born to cater to these specific needs while never compromising on flexibility and openness, contrasting vendor lock-in with transparency and wide compatibility.
Prototype like a pro
The new Portenta Hat Carrier was designed to be used with a wide range of Raspberry Pi® Hats covering any need, and to offer a frictionless Linux prototyping experience – exposing multiple Portenta peripherals and enabling easy debugging and inspection of the CAN lines through dedicated pins, while allowing for the actuation of multiple devices leveraging the ready-programmable analog I/Os.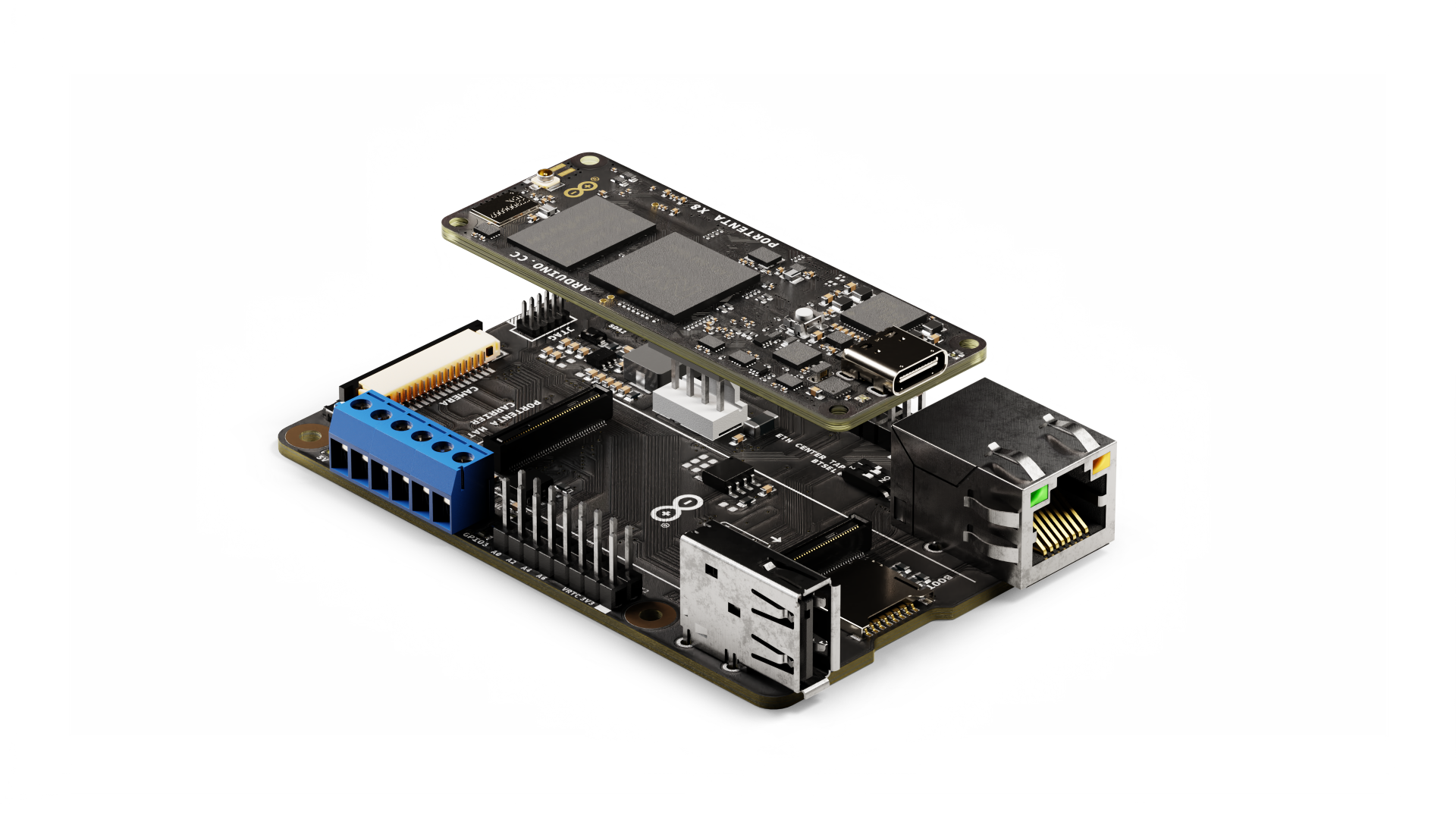 Access or amplify industrial automation
Portenta Hat Carrier is suitable for industrial automation applications ranging from robot arm motion controllers – as the CAN interface integrated at the HW level and the ROS container at the SW level allow Portenta X8 to control machinery's trajectory, while simultaneously interacting with all the external electronics – to smart sorting systems, leveraging machine vision through a dedicated TensorFlow™ container while actuating a conveyor.
Portenta Hat Carrier can also help users test the audio quality of their speakers and musical instruments in combination with a Raspberry Pi® Hat to create audio quality test benches – or monitor environmental sounds in a variety of environments, from noisy production plants to public spaces.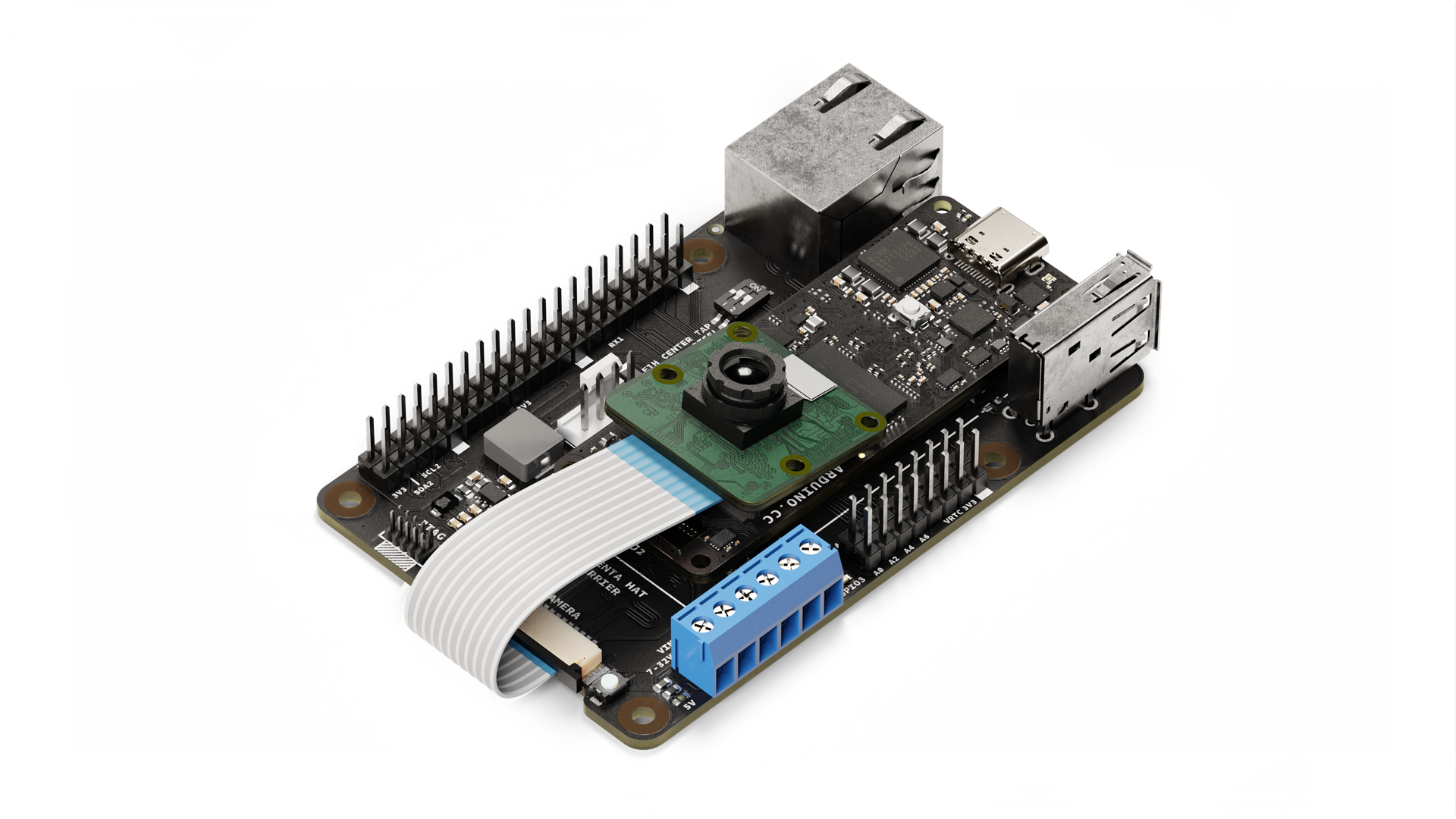 Build up your building automation opportunities
Portenta Hat Carrier's capabilities can be put to good use in building automation to monitor environmental parameters such as temperature, air quality and CO2 levels in real time and manage heating, ventilation or purification systems remotely, according to data or even automated alerts received via Arduino Cloud.
Portenta Hat Carrier can also be at the heart of smart video surveillance systems, ready to promptly detect and warn users about intrusions or vandalism, or even connecting with high-performance cameras to further improve security.
Tech Specs
Connectors

High-density connectors compatible with Portenta products
1x USB-A female connector
1x Gigabit Ethernet connector (RJ45)
1x CAN FD with onboard transceiver
1x MIPI Camera connector
1x microSD card slot
1x PWM fan connector
40 pin header connector allowing compatibility with Raspberry Pi® Hats
16 pin analog header connector, including:

8x analog pins
1x GPIO
1x UART without flow control
2x PWM pins
1x LICELL pin for Portenta's RTC power

Interfaces

CAN FD
UART
SAI
ANALOG
GPIO
SPI
I2C
I25
PWM

Debugging
Onboard 10x pin 1.27mm JTAG connector
Power
From USB-C® on Portenta
From 5 V on 40 pin header connector
From onboard screw terminal block allowing:

7-32 V power supply, powering both the carrier and the connected Portenta
5V power supply

Operating Temperatures
-40 °C to +85 °C (-40 °F to 185 °F)
Dimensions
85 mm x 56 mm (3.35 in x 2.6 in)