HIGH SCHOOL
Science Kit R3
Experience Physics Like Never Before
Ready-to-use carrier 丨No coding required 丨Data literacy
Why choose the Science Kit R3 and Science Journal app?
Explore physics in a new and interactive way with the Science Kit R3, designed and developed by science teachers for science teachers. This kit brings abstract theories to life through practical, real-world experiments, igniting curiosity while explaining scientific concepts.
The accompanying Science Journal app allows students to gather data from ready-to-use sensors, transforming handheld devices into data loggers anywhere, any time.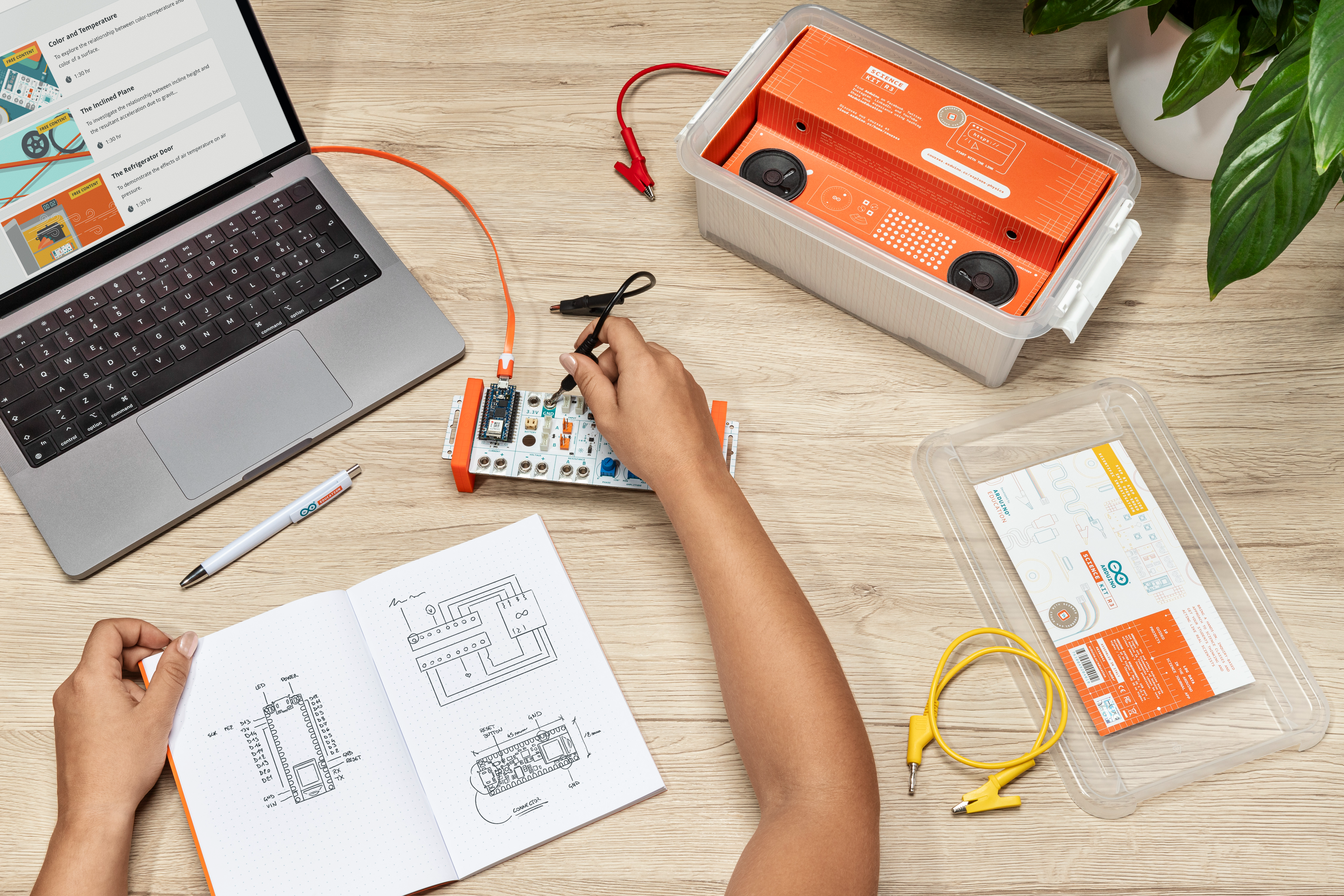 Robust hardware for rich learning experiences
The Science Kit R3 is equipped with an Arduino Nano RP2040 Connect and the Arduino Science Carrier R3. This provides an array of embedded sensors for air quality, temperature, humidity, pressure, light, and more.
These versatile sensors mean you can conduct many different experiments, encouraging a deep understanding of core physics principles - and you don't need any experience in coding, electronics or using Arduino products to get started.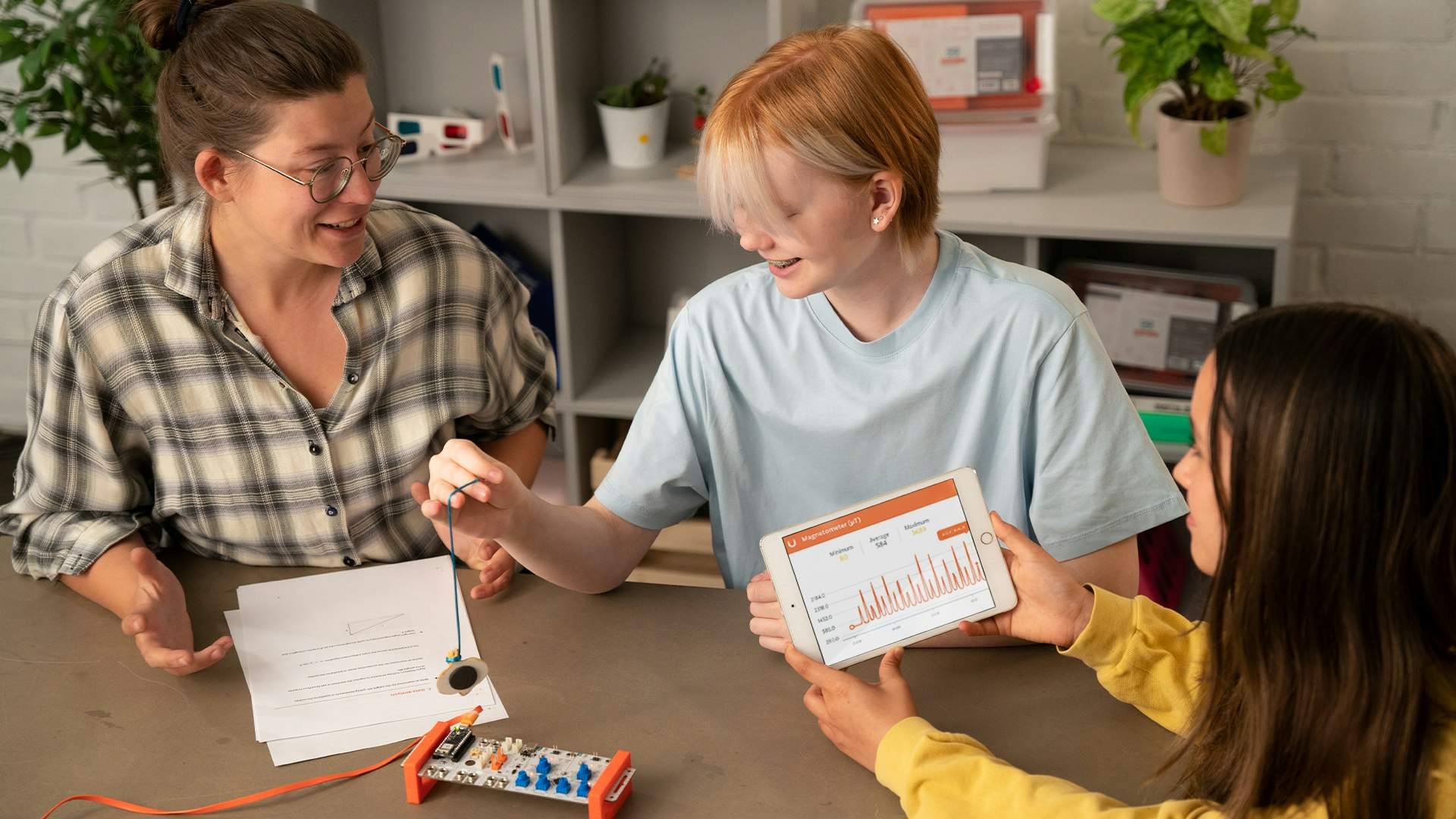 Introducing the Science Journal app
Enhance the learning experience with the Science Journal app, designed for real-time data collection and analysis inside and outside the classroom. Connected to the Arduino board via Bluetooth®, the app facilitates the seamless transition of data, enabling students to record, interpret, and gain meaningful insights from their experiments in real-time. And no coding experience is required!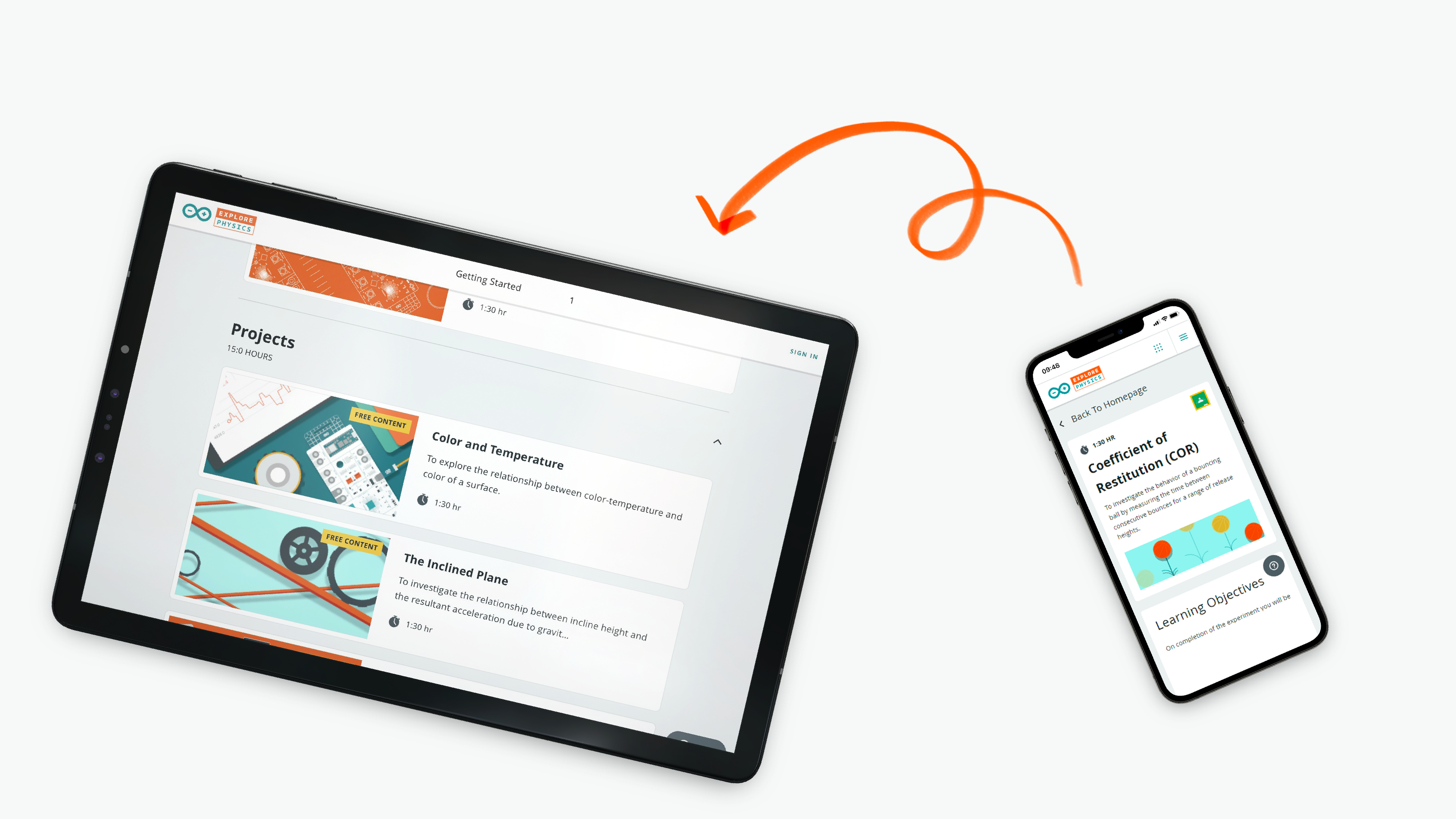 Guided courses for your journey - Explore Physics
The Explore Physics course provides a comprehensive learning platform, including detailed, step-by-step hands-on experiments and support for educators. The 10 hands-on experiments, which you can teach in any order, follow a similar structure based on the scientific method and fit into at least one of these areas of the curriculum: forces, motion, and interactions; waves, oscillations, and electromagnetic radiation; energy and energy transfer; and structure and properties of matter. It's aligned to various educational curricula, such as AP Physics, IB Diploma, NGSS, NYS, and England's Key Stages 3, 4 & 5.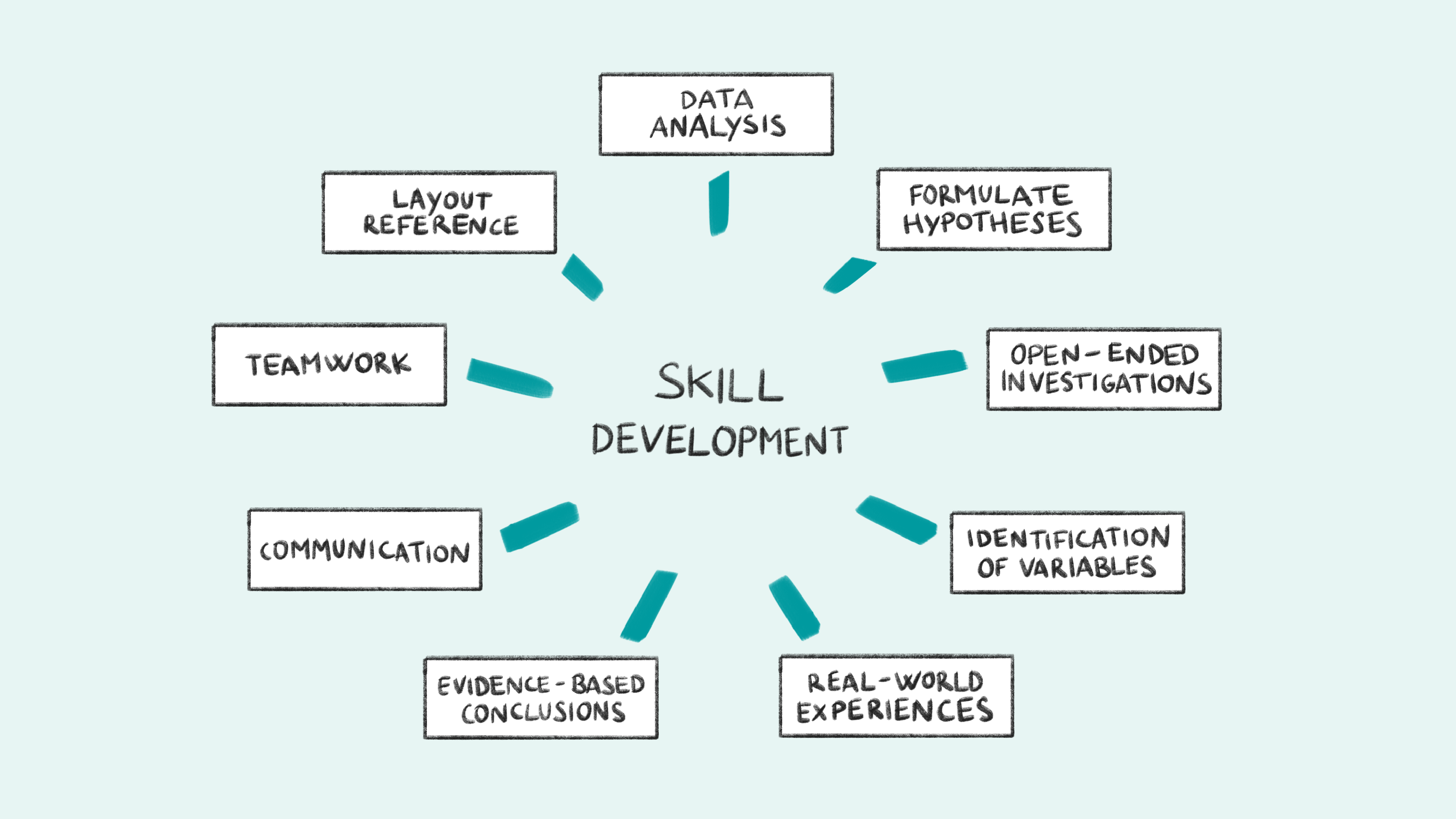 Learning outcomes
Students become proficient with various practical physics methods, including data analysis, formulating hypotheses, and conducting open-ended experiments. They also hone their future skills by working both individually or in groups on projects that have real-world applications and relevance.
User Testimonials
"The Arduino Science Kit R3 has been created with teachers and students in mind. Without any need to code or build electronic circuits. The multi-sensor carrier has made it possible to complete experiments in many sections of the physics curriculum. In the Explore More section for each experiment, students are inspired to create their open-ended and personalised investigations. The possibilities are limitless for my GCSE, A level and IB students"
Physics teacher - Haileybury College, UK
"Our goal is to transform the science Lab Experience from following boring instructions to a creative endeavor, where students find new ideas and solutions based on the laws of science they discover. The Arduino science kit is just the tool we need for this goal: it connects the control and measuring processes that are typical in Science with the rich world of the Maker Movement."
Institute of Physics Education, University of Cologne
"By combining EdTech used by the students for portfolios etc. to the Arduino Science Journal in our opinion would produce the best results and the teacher can assess students in holistic manner understanding the phenomenon, the quality of the experiments and data, understanding of data, report and key findings...Once it was set up, it was easy to use. The easiness of the Science Journal connection and use is perfect. It's great that there are so many sensors. The recording of the data is easy."
Teacher Trainer at the University of Eastern, Finland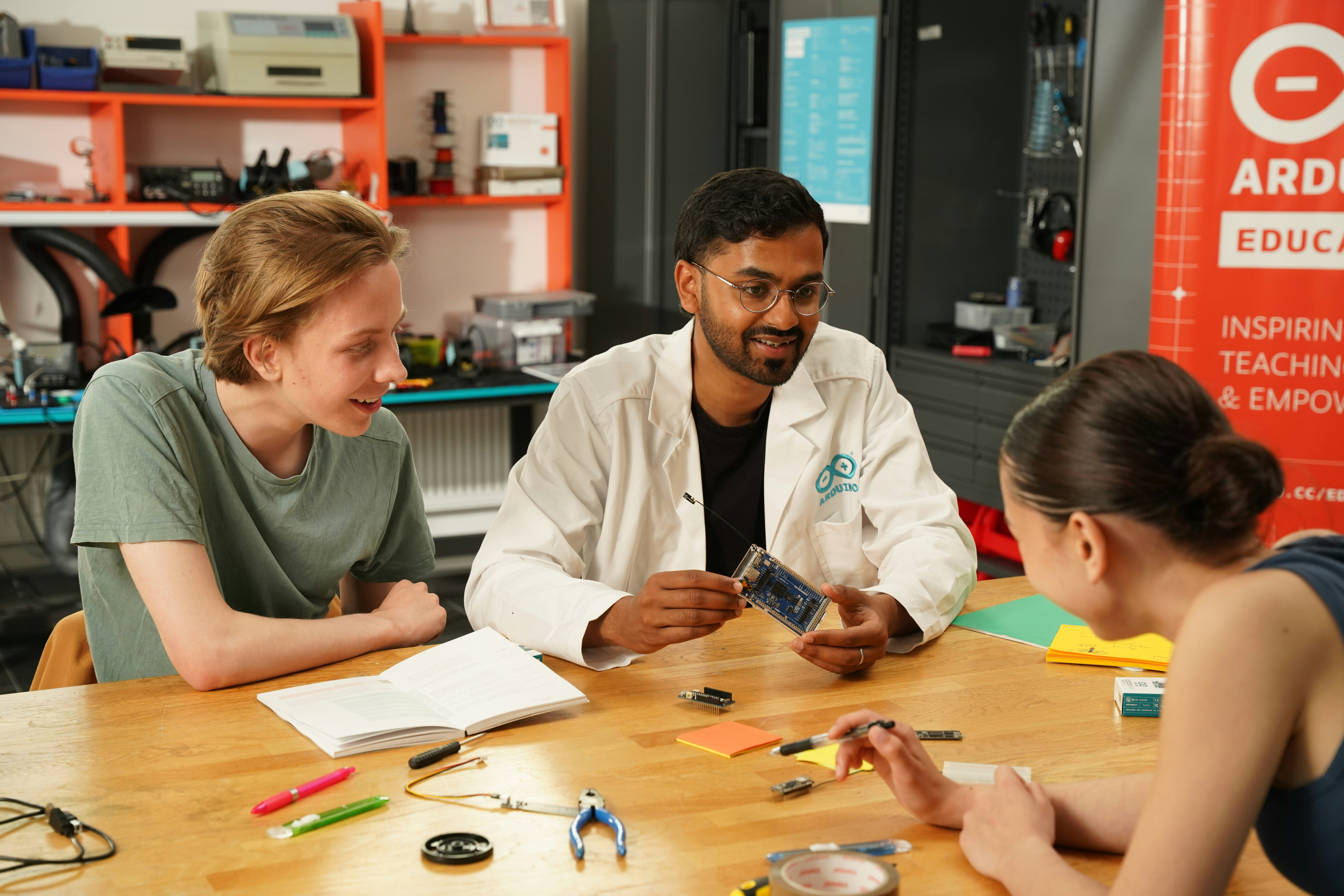 Dedicated support
Every Arduino Education kit comes with access to dedicated assistance from the Arduino support team, which is ready to help with troubleshooting, purchases, classroom management, or platform-related questions.
Frequently Asked Questions
What's included in the kit?
The Science Kit R3 comes in a handy storage box, along with an Arduino Nano RP2040 Connect, the new Arduino Science Carrier R3 with a wide ecosystem of sensors embedded, and all the parts needed to assemble and carry out the experiments. You will only need to add some easy-to-find household items to keep experimenting, and a mobile device to log your data. You will have full access to our exclusive online content platform. It is required to install the Science Journal app to work with the kit. The app is free and compatible with Android and iOS operating systems.
Do I need any prior experience with coding?
No, you don't need any prior coding experience. The Nano RP2040 Connect is preloaded with a sketch to run your experiments straight out-of-the-box! You think about science, we'll do the rest.
What languages are available?
The Science Kit R3 is currently available in English. More languages will be added.
Where can I find building instructions for my Science Kit R3?
The kit doesn't require assembly. The Nano RP2040 Connect and Science Carrier R3 contain most sensors on board. You can find the URL course.arduino.cc/explore-physics of the experiments under the lid of the Science Kit R3 box.
Does my kit need batteries?
Yes, the Science Kit R3 requires the use of an external power source. You can use the computer as a power source also you may want to use a portable power bank (like the one used for charging your phone or tablet) or the JST connector to run remote experiments. Four AA batteries are required (not included in the kit). It is recommended to connect the Science Carrier R3 using the USB-C® connector, not from the Nano RP2040 Connect.
see more
Start your educational journey with us
Explore, experiment and excel at physics in middle school and high school with the new Science Kit R3 from Arduino Education. Buy the kit today.