MIDDLE SCHOOL
ARDUINO STUDENT KIT
Learn electronics and get started with programming with this beginner-friendly kit, designed specifically for homeschooling and remote learning.
Everything you need to run a STEAM class at home
Get started with the basics of electronics, programming, and coding. No prior knowledge is necessary - the kit will guide you through 11 exciting activities, introducing concepts like current, voltage, resistance, and developing important 21st century skills, such as problem-solving and critical thinking.
Each kit includes hardware, access to online learning content, and dedicated support, making it ideal for remote teaching, homeschooling, and self-learning.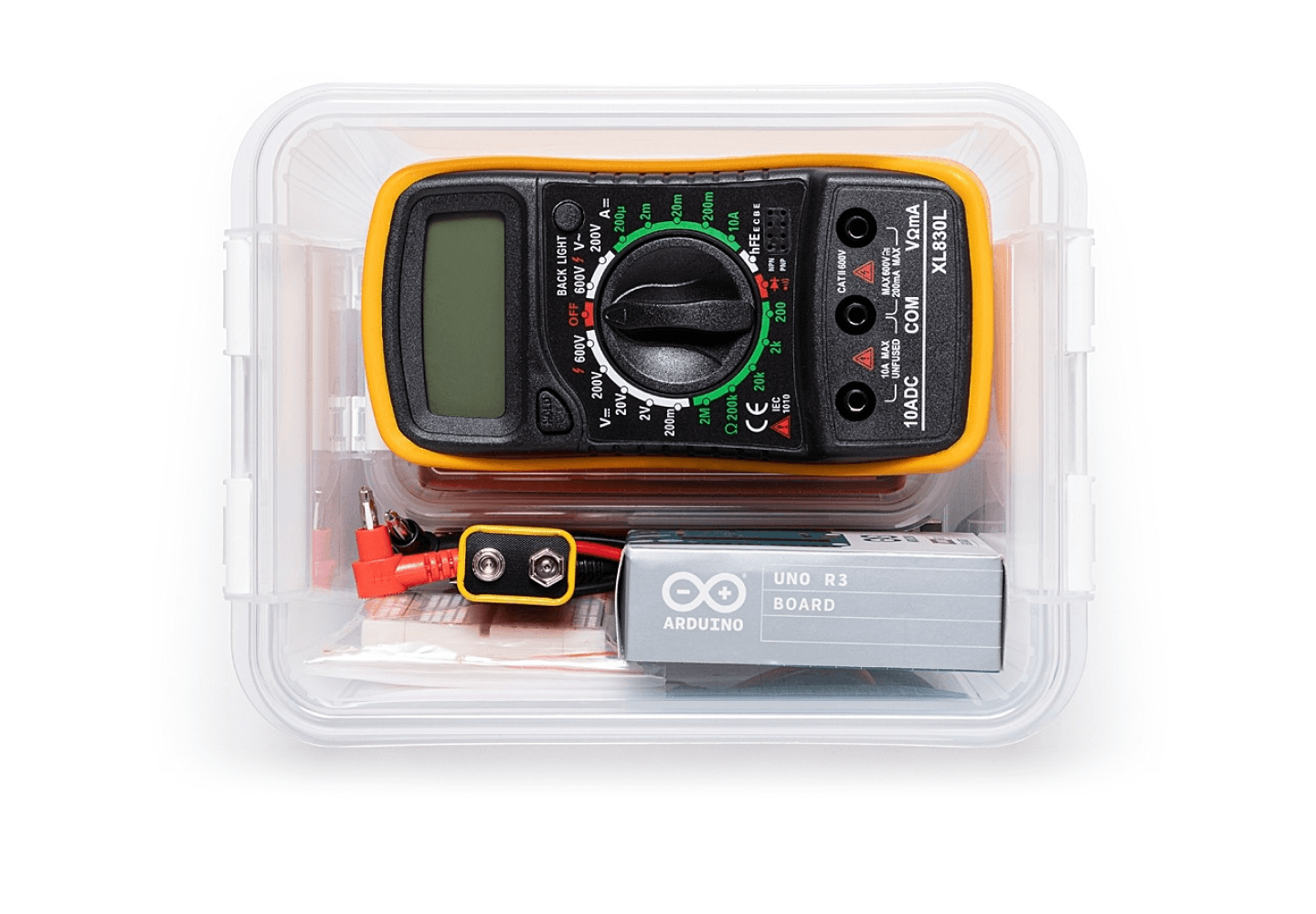 Hardware
Each Student Kit comes with all the necessary hardware for one student, including one Arduino UNO rev3 board, breadboard, multimeter, battery, wires, and various sensors and actuators.
All hardware arrive in a durable, reusable box, ideal for storage and years of use.
Replacement parts can be purchased separately.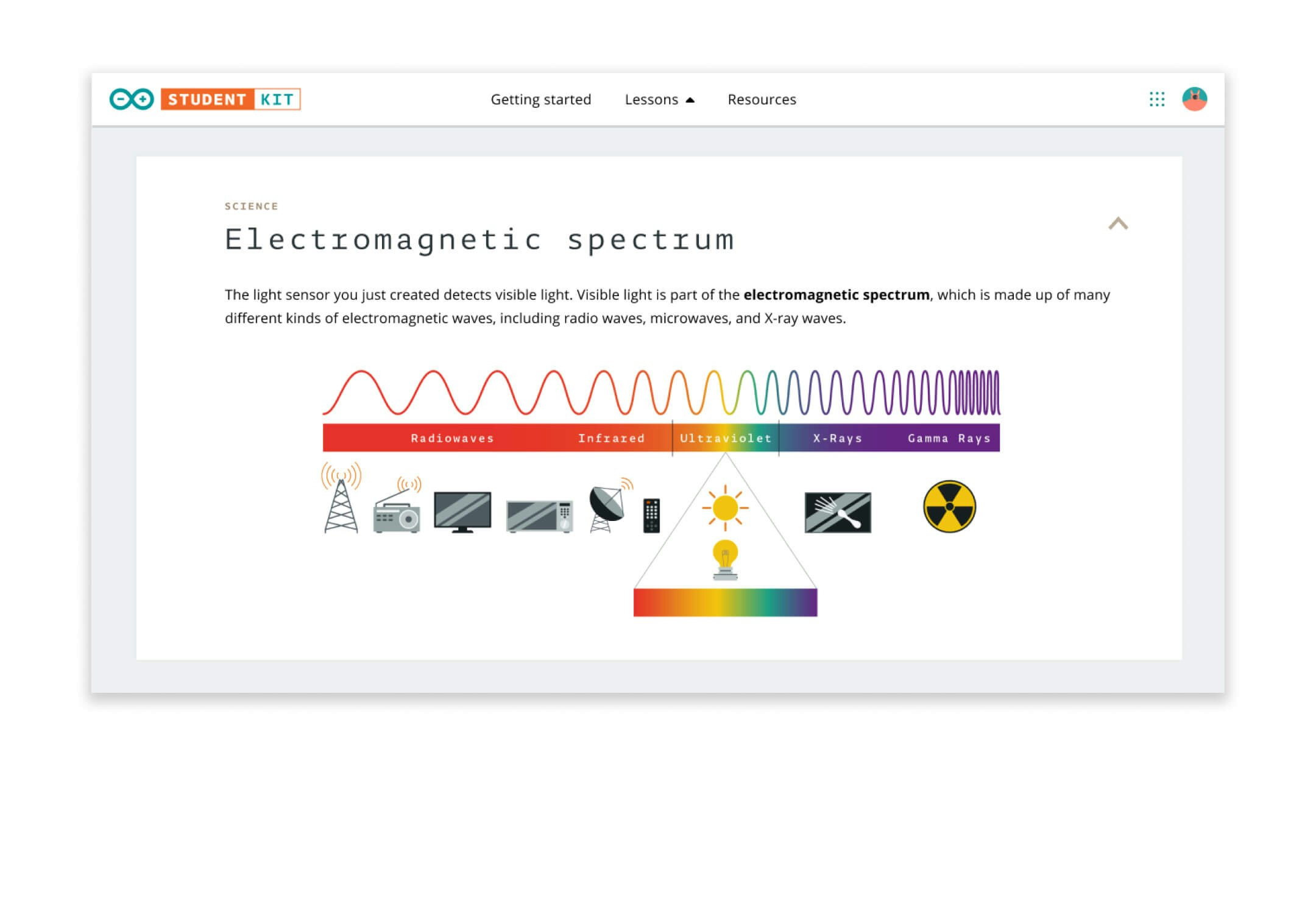 Online learning content
The Student Kit includes access to our online platform with 9 guided lessons, 2 open-ended projects, a glossary, and logbooks filled with exercises - a total of up to 25 hours of learning! Teachers or parents have all the support they need with educator content, evaluation guides, curriculum materials and time management tips.
This Student Kit follows the US common standards and focuses on core concepts of coding and electronics.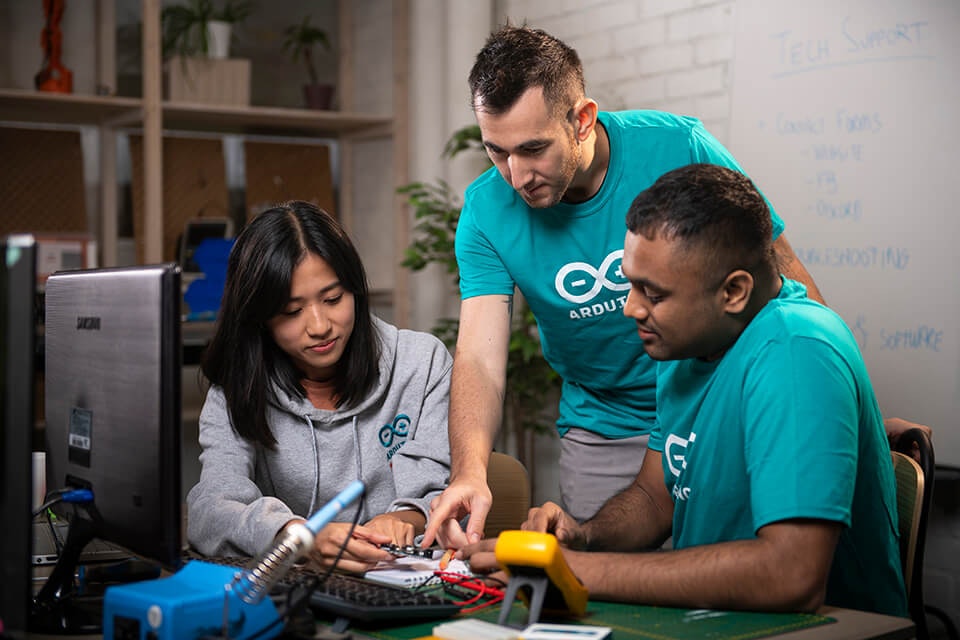 Dedicated support
Each Arduino Education kit comes with access to dedicated assistance from the Arduino support team, which is ready to help with troubleshooting, purchases, classroom management or platform-related questions.
User Testimonials
"I thoroughly enjoyed the activities provided in the Arduino Student Kit. The kit is a great value for the money, especially since it includes a high-quality multimeter. I believe the building, coding, and electronics aspects of the projects will really resonate with students and enable them to find something to engage with."
NBCT, Grades 5-6 STEM teacher, Sand Creek Middle School
"The kit looks great, I like the way that the learning built up in each lesson and I liked the 'challenge' tasks to work things out for myself to satisfy design requirements."
Director of Learning for Technologies and Design, Millais School, UK
"To say that my son has been having a blast with this kit would be an understatement. For him to actually ask to do activities on his school day doesn't typically happen. However, as this hands on STEM kit appeals to his preferred method of learning, he constantly asks to do lessons."
Homeschooler, California
Frequently Asked Questions
What is the difference between the lessons and open-ended projects?
Lessons provide a guided experience where the student is presented with a set of exercises, concepts, and assembly instructions in a step-by-step manner with a set outcome.

Open-ended projects challenge the student to apply what they have learned in the lessons in a creative way. They are given a set of requirements that their project has to meet, but can decide themselves what they want to build and how to structure the process.
Which languages does the online platform support?
The Student Kit is available in English, Chinese, Croatian, French, German, Italian, Portuguese, Spanish, and Thai, with more languages coming soon.

Contact our support team for more information on specific languages.
What other materials would I need to use the kit?
All the electronics and learning materials are included in the kit. You will only need a computer running Windows 7 or higher, Linux, or Mac OS with a USB port, and access to the internet.

You will also be required to install the Arduino IDE to your computer in order to program the Arduino boards.
How do I access the online content?
Each kit comes with a unique activation code, stored under the lid of the packaging. When getting started with the kit, you will be asked to activate it by going to studentkit.arduino.cc, entering your activation code and creating an Arduino account.

Once the kit is activated, you can access all the online content by logging in to the platform with your Arduino account.
Download complete FAQ
Start your educational journey with us
To get your own Arduino Student Kit, visit our online store or find an official educational distributor near you.