DISTIAMO: Frequently Asked Questions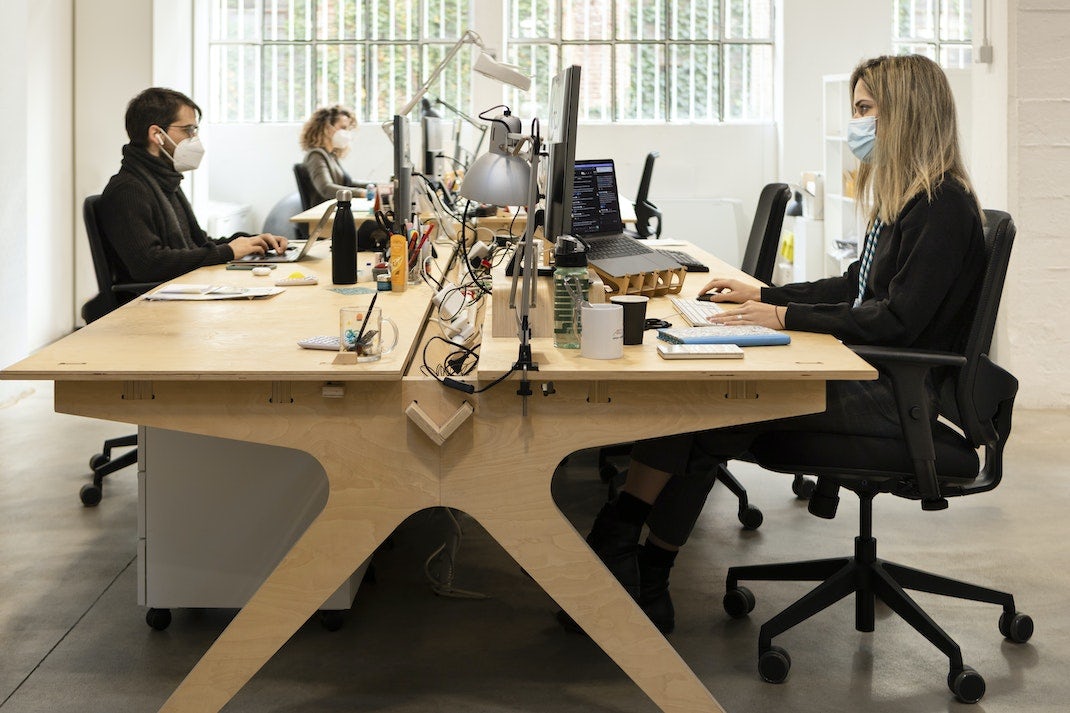 What happens once the Covid-19 pandemic is over?
We'll all breathe a sigh of relief. And Distiamo will keep working hard because it can do much more than trace contacts.
Optimize your office or factory space through heatmap analysis
Count people at your venue to keep occupancy in check
Manage building evacuations in emergency situations
Activate "Person Down" and "Panic Button" functionalities for workplace safety
What makes Distiamo unique?
If we had to pick one feature, it would have to be its ability to merge fine-grain accuracy with coarse-grain cost-effectiveness: it allows you to spend money where you need it. Invest to have measurements within a 10-centimeter tolerance only where you know people are at higher risk of breaching social distancing measures. In environments where flows are already regulated, by habits or the space's layout, you can rely on convenient tag-to-tag communication to simply make sure everyone keeps their distance.
Why implement contact tracing with Distiamo?
Because physical distancing and contact tracing:
Make everyone more aware and mindful of their behaviour
Alert anyone who might have been exposed to contagion, even days later, so they can take necessary precautions
Show you are putting in place systems to mitigate risks
Allow you to take action based on data, for the good of your employees, visitors and * clients – as well as the good of your business
What are the Distiamo solution components?
Distiamo is an end-to-end, hardware and software IoT solution developed by Arduino in collaboration with its strategic partner Moviri:
BLE AoA ceiling-mounted locators
BLE RSSI wearable Tags
Mapping and planning application
Arduino IoT Cloud
Splunk-based dashboard and management app
Moviri customization and integration services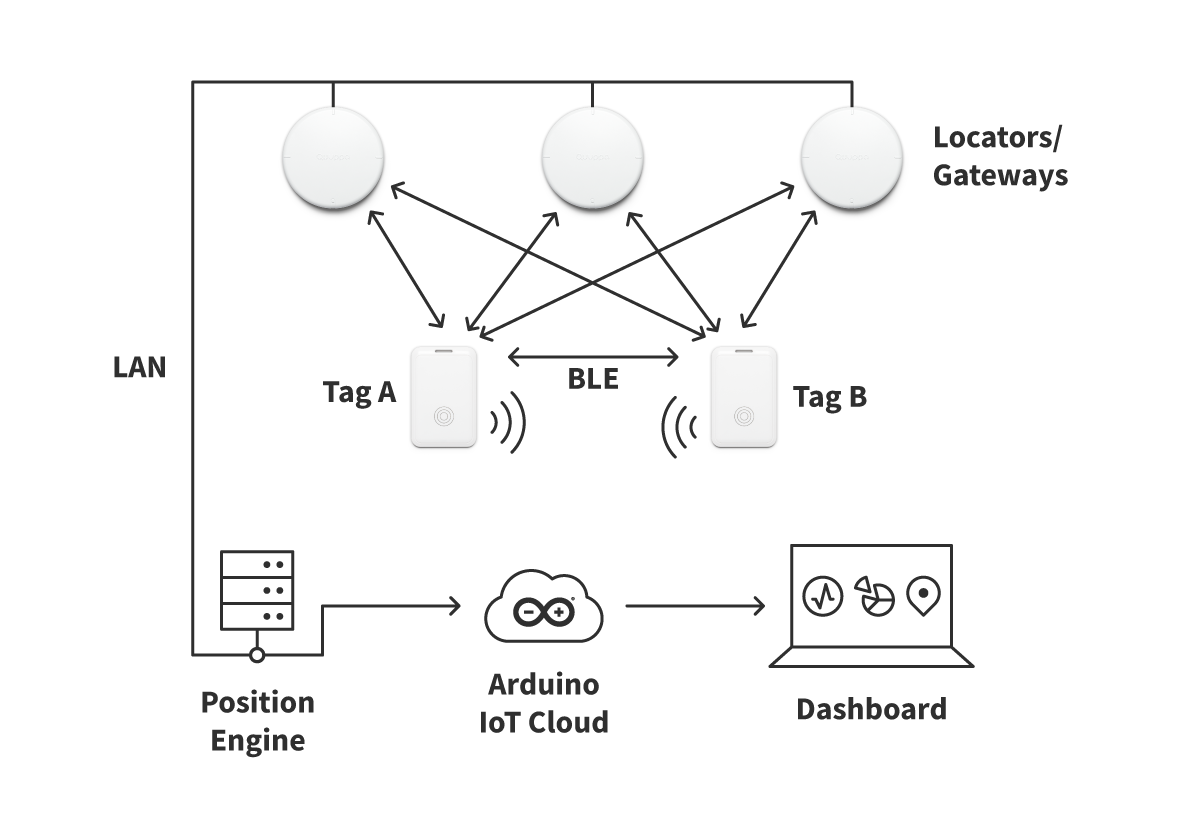 My company is installing Distiamo. How will it impact me?
Adding a Tag to your badge, Distiamo will alert you when you are too close to someone else for too long. Should a new case of Covid-19 pop up, everyone who might have been exposed can be notified and take extra precautions. Data is recorded anonymously and your privacy is protected at all times.
What is a Tag? # 
A Tag is a small device that communicates its ID so the Distiamo system can estimate its location. It can be added to badges, key rings, bracelets or any other object people will easily carry with them across the workplace. Tags detect the rules you've set for each space and will blink and/or vibrate if users breach them. Finally, they transmit useful data to the system for any future contact tracing needs. Tags are battery-operated: batteries last approximately 2 years with typical use, and can be replaced.
Branding - Tags can be personalized with your company colors and logo to fit right in.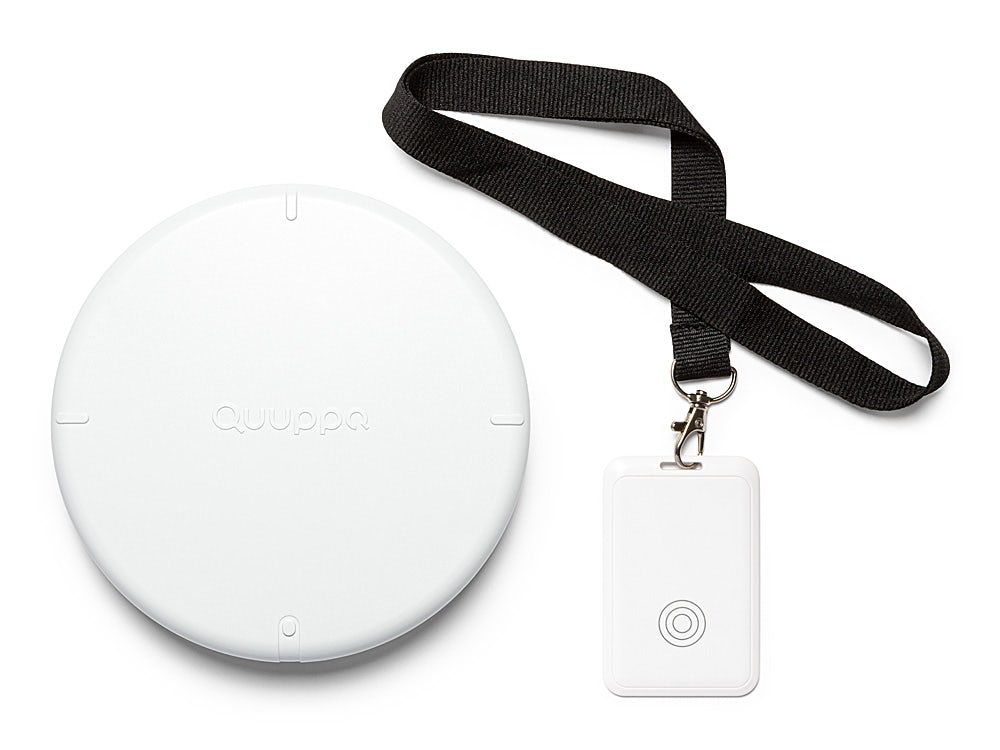 Who is Distiamo designed for?
Distiamo was designed for the workplace – any workplace. We have installed it at the Arduino headquarters inside a major co-working space in Turin, Italy, and in our clients' offices and factories. The system can be adapted to a variety of workspaces and sites such as museums, university campuses, supermarkets and even cruise ships. It works both indoors and outdoors. It's for any space where people come together, interact and need to stay safe.
If you have an out-of-the-ordinary situation, contact us and we can help you figure out if Distiamo is the right solution for you.
How I can get started?
If you are interested in using Distiamo in your company or space, or just want to learn more about the solution please contact us via email at pro@arduino.cc us or contact us.
Want to get in touch?
Distiamo is the physical distancing and contact tracing solution that allows you to manage Covid-19 measures in your workplace. Whatever your needs, whatever happens, Distiamo has you covered.