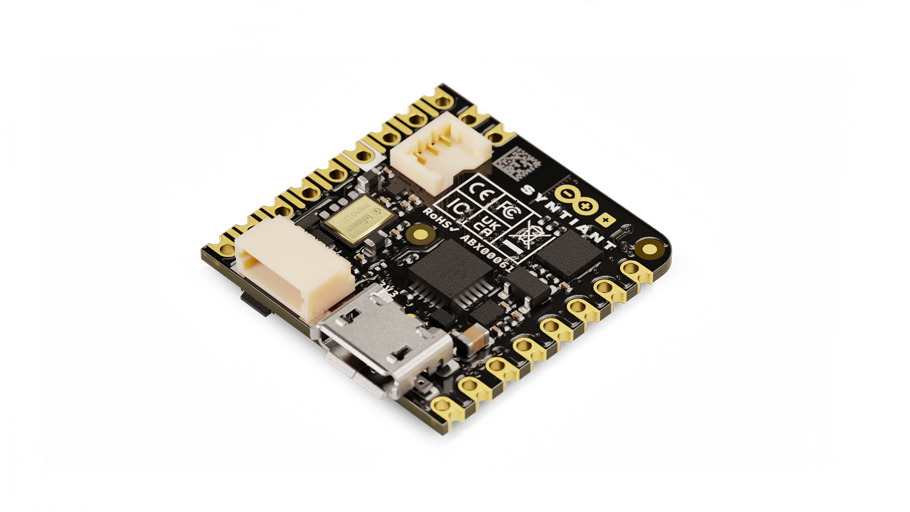 Implement always-on speech recognition on the edge
Leverage sensors that hear what you say, and the Neural Decision Processor that understands what you need
The tiny module with all the sensors, intelligence and connectivity to unleash AI's potential with sound
The 22.86 x 22.86 mm Nicla Voice allows for easy implementation of always-on speech recognition on the edge, because it integrates Syntiant's powerful NDP120 Neural Decision Processor to run multiple AI algorithms, leveraging bio-inspired, advanced machine learning to automate complex tasks.
Nicla Voice comes with a comprehensive package of sensors: in addition to its high-performance microphone, it features a smart 6-axis motion sensor and a magnetometer, making it the ideal solution for predictive maintenance, gesture/voice recognition and contactless applications.

Nicla Voice offers onboard Bluetooth® Low Energy connectivity to easily interact with existing devices, and is compatible with Nicla, Portenta and MKR products. Thanks to its headers and castellated pins, Nicla Voice is ready to go from prototype to industrial-scale production, easily integrating with custom carrier boards. Finally, its ultra-low power consumption makes 24/7 always-on sensor data processing possible, with the option of battery-powered standalone operation.
Key Benefits
Powerful processor with integrated Deep Neural Networks in a tiny form factor (22.86 x 22.86 mm);
Integrated microphone, magnetometer and smart 6-axis IMU;
Onboard Bluetooth® Low Energy connectivity;
Add speech recognition capabilities to your projects;
Ultra-low power for 24/7 always-on sensor data processing;
Standalone when battery powered;
Compatible with Portenta and MKR products;
INDUSTRIAL-GRADE NEURAL PROCESSING
Run multiple AI algorithms at once with Syntiant's powerful NDP120 processor
ALL THE SENSORS YOU NEED
Recognize voice and gestures with microphone, IMU and magnetometer
LOW-CONSUMPTION DURABILITY
An ultra-low power module that can run 24/7, even when battery-operated
SMALL ENOUGH TO FIT – AND RETROFIT
The tiny form factor is ideal for wearable solutions, and easily fits into existing machines
Teach Nicla Voice to listen to you, to machines or to the environment around it – with easy voice and gesture recognition
Small enough to fit into wearables or retrofit existing machinery, enabling AI yet requiring minimal energy: Nicla Voice is the "impossible" combination that makes voice recognition on the edge possible – and easier than ever.
Tuned in to industrial automation
Nicla Voice can activate its IMU and microphone to detect unexpected vibrations in robotic arms during operation, preventing loss of accuracy. It can be integrated into any equipment to "hear" noise change in bearings for timely maintenance, be installed in remote or isolated settings such as wind turbines, or enable voice commands in any harsh environment where workers need to wear protective gear that limits their ability to interact with keyboards or switches. Indeed, it can facilitate human-machine interaction in a variety of cases – down to the simple contactless operation of chiller machines, which can be given instructions like "Set -2 °C", easily recognized by Nicla Voice's neural processor.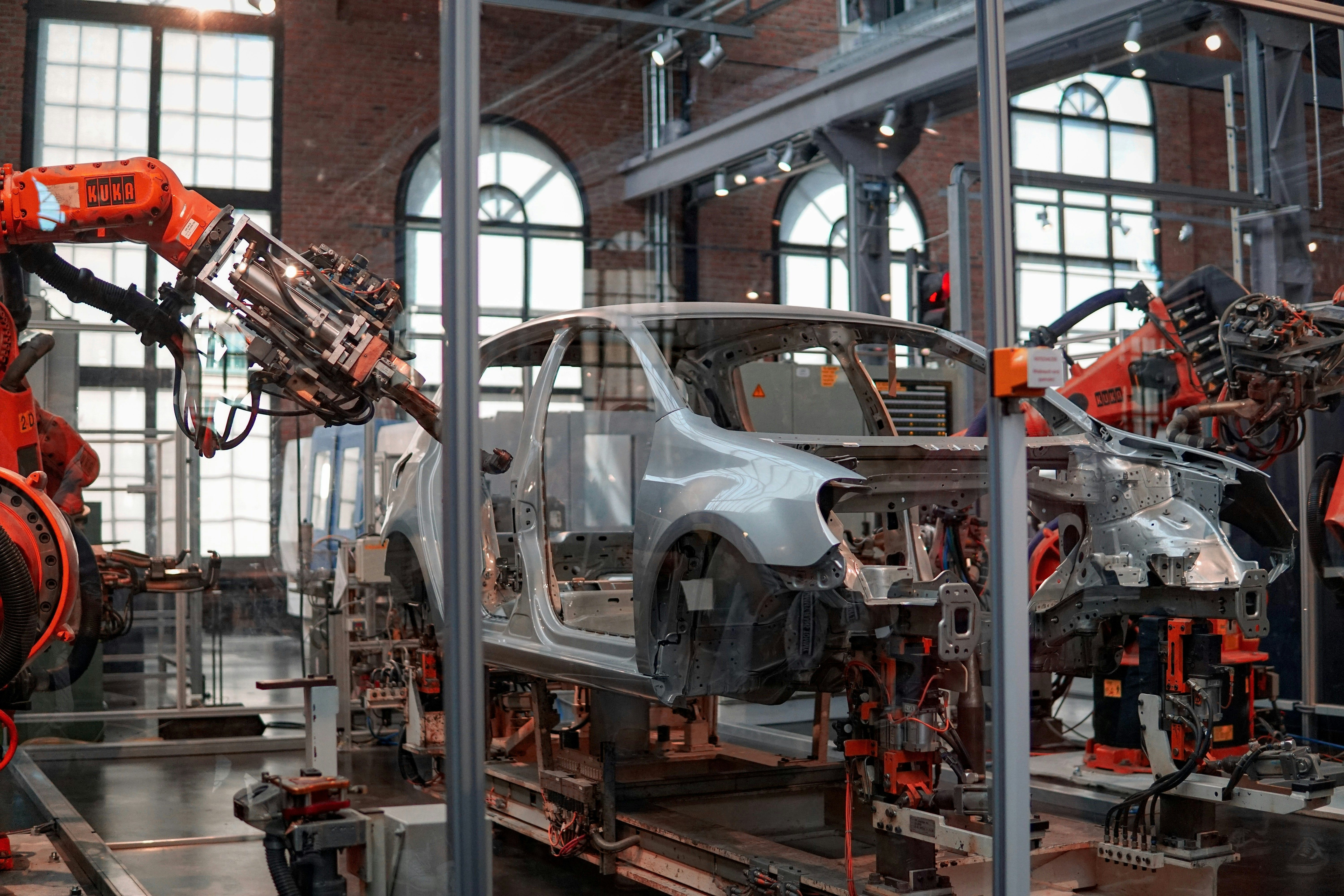 Building automation: a word to the wise
Building automation is another interesting field where Nicla Voice can unleash reliable and high-performance solutions: it can be at the heart of smart doorbells, and its edge capabilities enable faster identification of critical and time-sensitive events, for example using glass-breaking or motion sensing to automatically detect intruders. Its low-power consumption translates into months of operation and peace of mind for consumers.
Listen to the needs of better health and safety
Keeping health and safety in mind, Nicla Voice can be integrated into personal protective equipment and wearables to add hand-free, voice-activated and gesture-recognition functionalities thanks to its powerful sensors, tiny form factor and ultra low-power consumption. Applications range from accident prevention and alarms to more hygienic contactless human-machine interactions.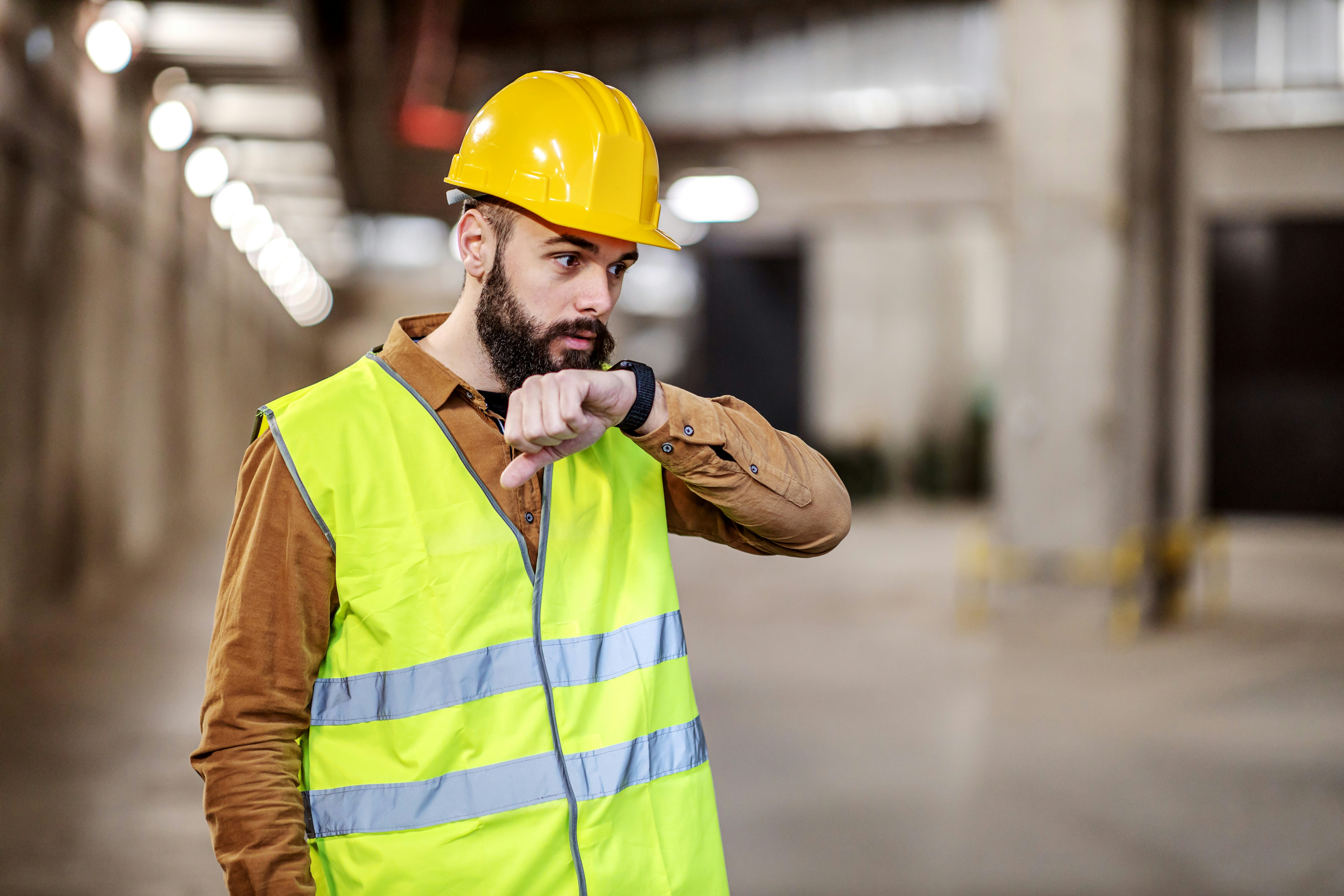 Fast-paced prototyping with voice recognition
Portenta and MKR developers will appreciate how easily they can now integrate always-on speech recognition in their prototyping projects, with ready-to-use sensors including a microphone and IMU, as well as Nicla Voice's powerful Deep Neural Networks processor. Nicla Voice speeds up the tempo on product development, whether your launch requires solutions that use voice to play music, make phone calls or pull up the blinds. It makes devices smarter by allowing for multiple wake words, replacing buttons users struggle with and helping designers integrate unobtrusive voice-command systems into stylish accessories.
Read the full documentation on Arduino Docs to learn how to get started with Nicla Voice, send data to the Cloud, or just find out more about it.
In need of advanced support for demanding AI applications?
NICLA VOICE TECH SPECS
| MICROPROCESSOR | Syntiant® NDP120 Neural Decision Processor™ (NDP): 1x Syntiant Core 2™ ultra-low-power deep neural network inference engine; 1x HiFi 3 Audio DSP; 1x Arm® Cortex®-M0 core up to 48 MHz |
| --- | --- |
| MICROCONTROLLER | Nordic Semiconductor nRF52832: 64 MHz Arm® Cortex®-M4 |
| SENSORS | High performance microphone (IM69D130); 6-Axis IMU (BMI270); 3-axis magnetometer (BMM150) |
| I/O | Castellated pins with the following features: 1x I2C bus (with ESLOV connector), 1x serial port, 1x SPI, 2x ADC, programmable I/O voltage from 1.8-3.3 V |
| INTERFACE | USB interface with debug functionality, external microphone connector (ZIF) |
| MEMORY | 512 KB Flash / 64 KB SRAM; 16 MB SPI Flash for storage; 48 KB SRAM dedicated for NDP120 |
| DIMENSIONS AND WEIGHT | 22.86 x 22.86 mm; 2 g |
| OPERATING TEMPERATURE | 0 °C to +70 °C (32 °F to 158 °F) |
| POWER | High speed USB (500 mbps); Pin Header; 3.7 V Li-po battery with Integrated battery charger and fuel gauge (BQ25120AYFPR) |
| CONNECTIVITY | Bluetooth® Low Energy (ANNA-B112) |