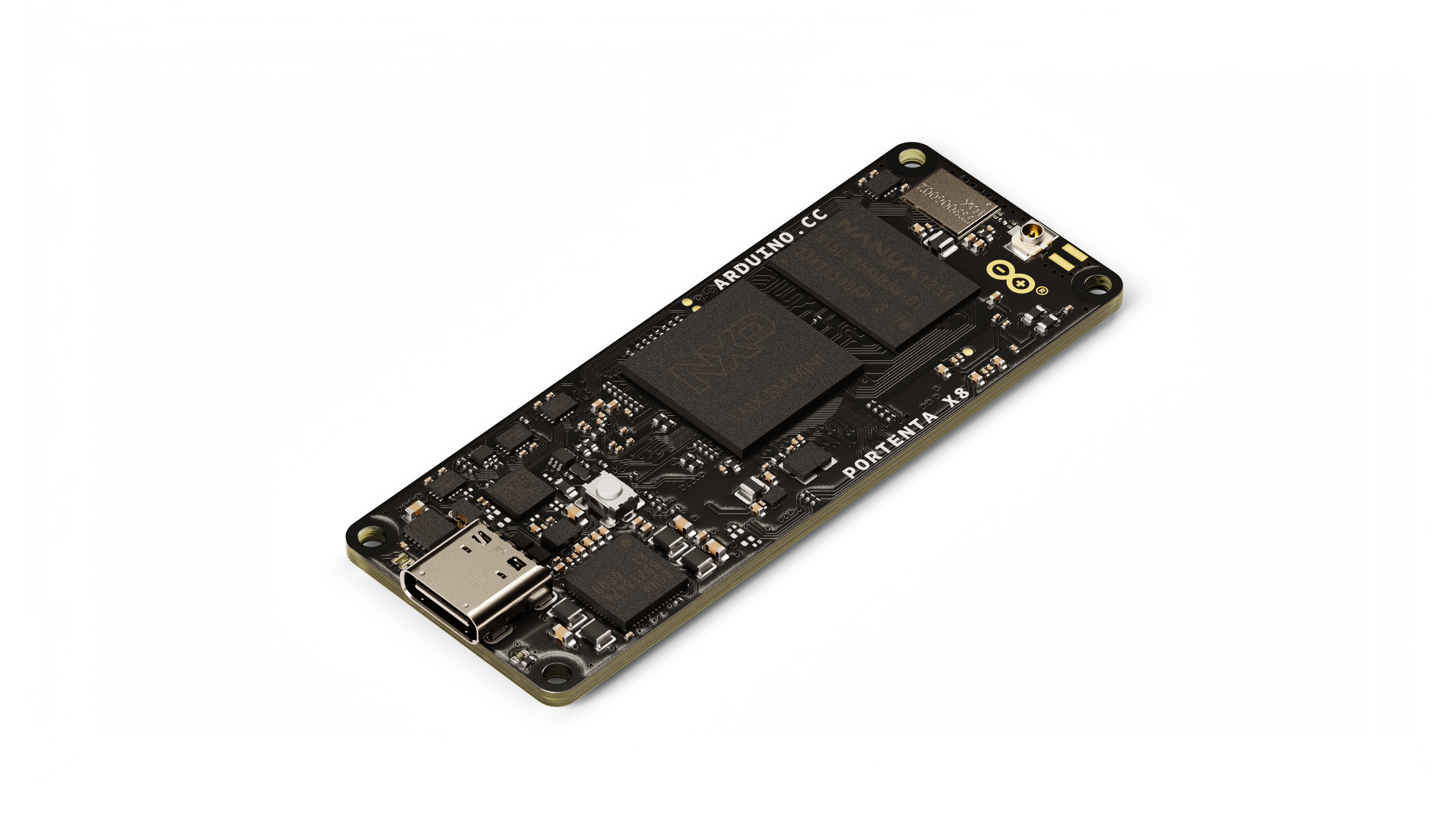 Industrial-grade, secure SOM with outstanding computational density
Leverage the Arduino environment to carry out real-time tasks while Linux takes care of high-performance processing
PORTENTA X8
Unleash the power of 9 cores within a compact form factor. Deploy AI algorithms and ML on the edge
The groundbreaking Portenta X8 is a powerful, industrial-grade System On Module (SOM) with Linux® OS preloaded onboard, making it a plug-and-play solution capable of running device-independent software thanks to its modular container architecture. Onboard Wi-Fi®/Bluetooth® Low Energy connectivity allows you to carry out OS/application updates remotely, always keeping the Linux kernel environment at top performance levels.
The Portenta X8's hybrid combination of microprocessor and microcontroller offers unprecedented flexibility to simultaneously and securely run Linux apps and perform real-time tasks.
Overall, this powerful SOM features a total of 9 cores within a compact form factor of 66.04 x 25.40 mm. It has an NXP® i.MX 8M Mini Arm® Cortex®-A53 quad-core up to 1.8 GHz per core and 1x Arm® Cortex®-M4 up to 400 MHz, plus an STMicroelectronics STM32H747 dual-core Arm® Cortex®-M7 up to 480 MHz + M4 32-bit Arm® MCU up to 240 MHz.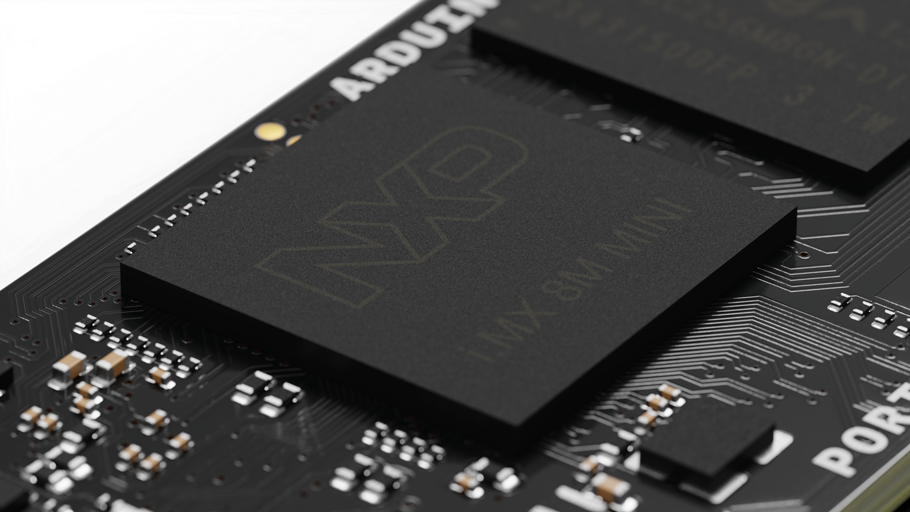 Key benefits:
Two industrial products in one, combining Arduino and Linux ecosystems
Outstanding computational density in a compact form factor
Real-time I/O and Fieldbus/control on a dedicated core
Deploy powerful AI algorithms on the edge
Secure OS/applications updates over the air
Industrial-grade security at the hardware level
STATE-OF-THE-ART SECURITY
Ready for the advent of secure Edge transformation
Portenta X8 continues Arduino's history of innovation, using the Cloud-based DevOps platform from Foundries.io to reinvent the way embedded Linux solutions are built, tested, deployed and maintained. The X8 includes the customizable open source Linux microPlatform OS, built using best industry practices for end-to-end security, incremental OTA updates and fleet management.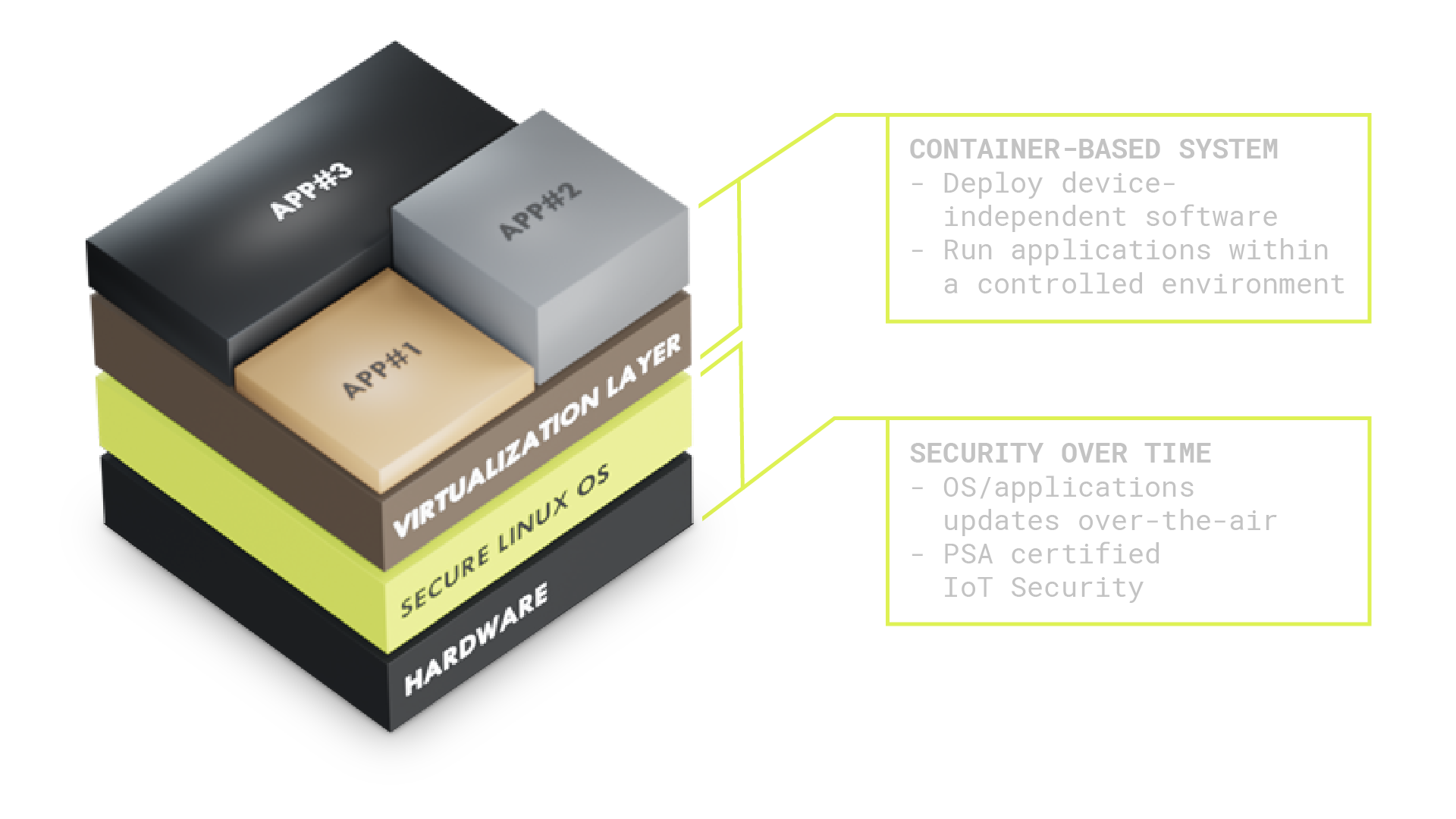 In addition, Portenta X8 achieved PSA Certification and includes the NXP SE050C2 hardware security element to provide key generation, accelerated crypto operations and secure storage. X8 also achieved Arm® SystemReady certification and integrated Parsec services, making it one of the first Cassini Products or Cloud Native Edge devices available to developers in the market. Enabling the migration of Cloud-native workloads from the Cloud to the edge, the Portenta X8 contributes to a Cloud-native developer experience across Arm's diverse and secure IoT ecosystem.
THE BEST OF TWO APPROACHES
Linux's flexibility of usage combined Arduino's real-time applications
MODULAR CONTAINER ARCHITECTURE
Device-independent software running within a controlled environment
END-TO-END SECURITY OVER TIME
Best industry practices for incremental over-the-air OS/applications updates
PLUG-AND-PLAY INDUSTRIAL IOT
Portenta X8 comes with Linux OS (Yocto) distribution already preloaded onboard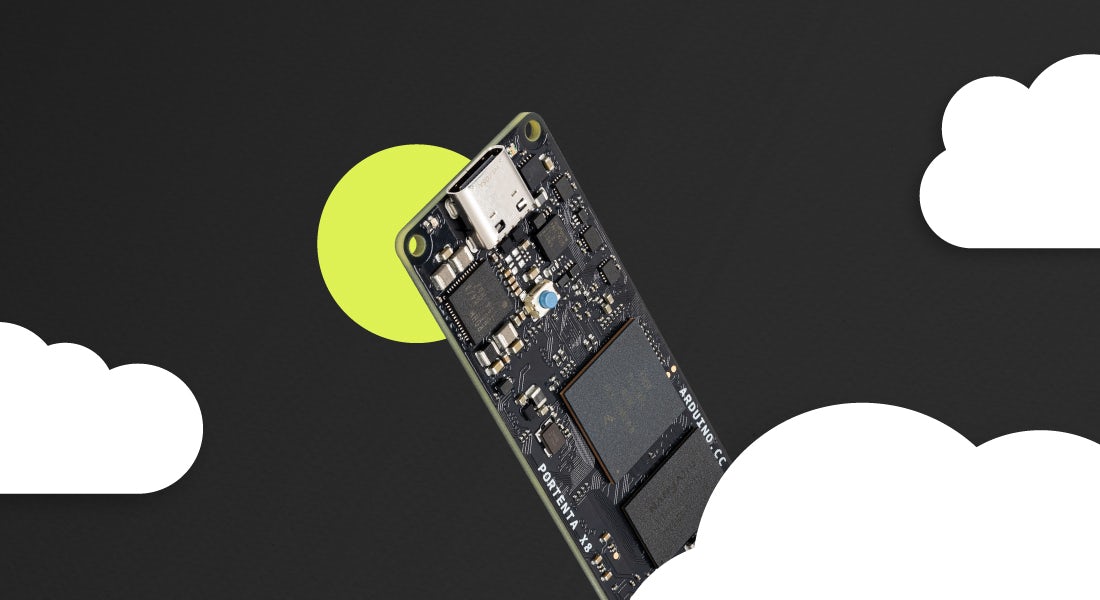 ARDUINO CLOUD FOR BUSINESS
Portenta X8 in the Cloud
Open a wide range of new applications by provisioning your Portenta X8 in Arduino Cloud:
Remotely visualize all your Portenta X8 data in widget-based dashboards
Securely provision your fleets leveraging their secure element and dedicated Python® container
Port all your Python® developed projects in Arduino IoT Cloud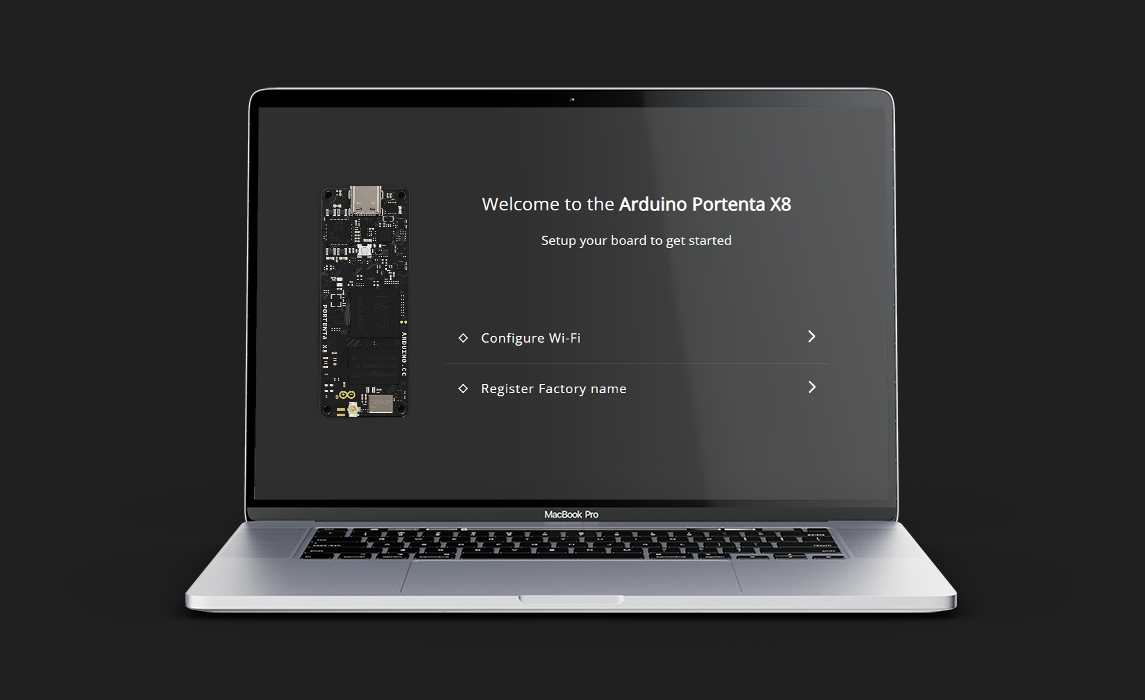 ARDUINO CLOUD FOR BUSINESS
Portenta X8 Manager
Enhance your Portenta X8 capabilities, subscribe to the Pro Plan Factory Bundle:
Securely maintain Linux distribution
Get individual provisioning keys for each device
Secure OTA update to target Portenta X8 devices/fleets
Deploy and update applications packaged into containers:

Pre-installed Python® container
Other Arduino customised containers
Custom containers
APPLICATION EXAMPLES
Expand the horizon of Industry 4.0, smart city and smart agriculture solutions
Portenta X8 enables IT professionals, system integrators and consulting firms to build and boost a wide variety of solutions for industrial contexts, but also lends itself to building automation and smart agriculture applications. It can be at the heart of real-time, high-performance image processing on the edge, Linux-based, multi-protocol gateway, interactive, secure smart kiosks and industrial equipment with Industry 4.0 capabilities.
For example, Portenta X8 can be combined with a carrier and turn into a powerful industrial computer to control equipment, collect/process data and act as a multi-protocol gateway sending information to the Arduino Cloud (or third-party services) or the company's ERP system. It can also enable AGVs (Automated Guided Vechicles) to interface with cameras, lidars, motor wheels, batteries and so on – so they can evaluate the most efficient trajectories to complete tasks around the factory, improving overall material flow. Portenta X8 can interact with environmental smart sensors to implement behavioral analytics that recognize and even prevent collisions, person-down incidents, and intrusions.
Adding an HMI touchscreen, it allows users to implement smart dashboards to control systems or applications remotely, collecting analytics on consumption and other relevant insights. Smart tractors can integrate a Portenta X8-based navigation system that can map crop fields and adjust the trajectory to avoid duplicated fertigation, and gather data to improve efficiency in the future.
Combined with a carrier such as Portenta Breakout or Portenta Max Carrier, it opens up even more opportunities for innovation.
Ready to get started with your Portenta X8?
Read the product datasheet, tutorials and documentation on Arduino Docs.
PORTENTA X8 TECH SPECS
| PROCESSOR | NXP® i.MX 8M Mini - 4x Arm® Cortex®-A53 core up to 1.8 GHz, 1x Arm® Cortex®-M4 core up to 400 MHz |
| --- | --- |
| MICROCONTROLLER | STMicroelectronics STM32H747AII6 Dual Arm® Cortex®-M7/M4 IC - 1x Arm® Cortex®-M7 core up to 480 MHz 1x Arm® Cortex®-M4 core up to 240 MHz |
| EXTERNAL MEMORY | 2 GByte Low Power DDR4 DRAM; 16 GByte eMMC |
| USB-C® | USB-C® High Speed; Host and Device operation; Power Delivery support |
| CONNECTIVITY | 1 Gbit Ethernet interface (PHY); Wi-Fi®; Bluetooth® Low Energy |
| SECURITY | NXP® SE050C2 Crypto on a separate secure bus |
| DIMENSIONS | 66,04 mm x 25,40 mm |
| CERTIFICATIONS | PSA from Arm®; Arm® SystemReady IR (multiple distributions) |
| INTERFACES | CAN; PCIe; SAI; MIPI; DSI; SPI; I2S; I2C; UART; PDM |
| OPERATING TEMPERATURE | -40 °C to +85 °C (-40 °F to 185 °F) |